Last week I was contacted by the people at Microsoft to head down to my local Currys/Pc World and take the
Great British Type Test
. They are on the road to find out what type of typer everyone is and to show you the best type of keyboard for how you type.
They have found that nearly 1 in 10 people are on their keyboards or typing away by 10am, which is astonishing when you think that before computers and smartphones the majority of typing was only done by skilled typists. Nowadays each and every person has their own unique way of punching away at the keys so we need to find the right keyboard for the right typist.
When I headed down to the event I was a bit apprehensive as I know I can be quite a fast but messy typer. I am constantly looking at my screen to find hundreds of red squiggly lines everywhere which takes me just as long to look through as what it did to type. I also was aware that I used one hand a lot more than the other. I have no idea why but I think I just have a lazy hand! I found that I was a speedy typer, which I guessed. As I can type fast but I sometimes stumble over parts and I don't know how to touch type properly.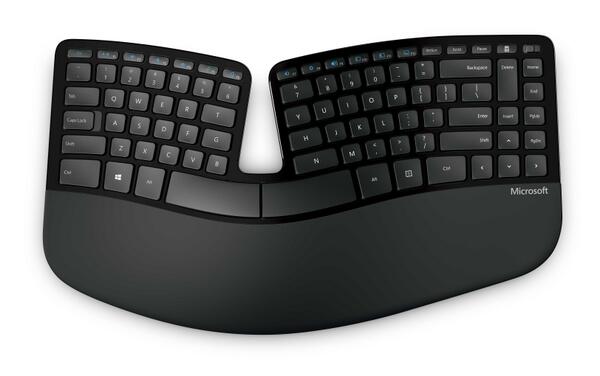 I sat down and was presented with the Sculpt Ergonomic Desktop keyboard. It looked a little bit scary and it took a lot of getting used to. By the end I still wasn't convinced that it was the right keyboard for me. So I did a bit of playing with each of them to see what fit my typing style the best. It was amazing to see how a different keyboard affected the way I typed. I have always struggled a bit with the spacing sometimes on my Macbook but brushed it off by thinking that I was just a rubbish typer. In the end we realised that the best one for me was the Wireless Comfort Desktop 5000.
The wireless keyboard was better than a wired one for me as it meant that I could keep my screen at a distance but still be able to type no matter how near or far I was. I find that I normally keep my macbook on a slight incline as it's easier to view the screen for things such as photo editing and writing. The keyboard itself comes packaged in a bight box with a USB stick to connect it to the computer and a mouse that is also wireless and feeds off the same USB. There is also 2 sets of batteries for the keyboard and the mouse and also some rubber stoppers to allow an incline on the keyboard if you wish. These just locked into place and are easy to remove if needed.
This was because the keyboard had an ergonomic design that allowed me to rest my hands whilst still reaching all the keys. The curve in the keyboard allows me to reach across but not strain my wrists when I am typing fast.
To set it up all I did was plug the USB stick into the side of my laptop, press any key on the keyboard to activate it and I was ready to type. It took some getting used to as I am normally using my laptop keyboard but it took me no time to get into the swing of things. Infact I'm typing using the keyboard at the moment!
The one thing I have found is that I need to remember what the Mac shortcuts are as they are not the same as the shortcuts on this keyboard. Having said that I could easily get some sticky labels to cover them. or glance at the macbook keyboard to remind myself. It's great that this product works across both operating systems as sometimes you find that products want to be exclusive and then you end up paying a large amount of money on a product that doesn't suit you and your typing style at all.
The mouse is really good and reminds me that using a track pad can be really annoying at times! Especially when I am editing photos. I used to have a graphics tablet but it was frustrating to have to clear the space and set it up to edit a photo or two so I save that for when I have a whole batch to edit. It's quite heavy so I have no worry that it will get knocked easily.
Overall I love this keyboard. I am finding that I can type faster and I'm making less mistakes than I have done previously. Not only that but having a keyboard means I'm sitting at a table instead of slouching against a sofa or bed to type meaning that I am sitting properly too! Woo!
I am fortunate enough to be able to offer you guys a chance to win a keyboard of your own from Microsoft. All you have to do is enter via the rafflecopter below.
a Rafflecopter giveaway